We were asked to review
Ohio ~ Here We Come!
, which is one of titles in the
By The Way Book Series
. It's a hardcover picture book about the State of Ohio, and especially nature in Ohio, that aims to help parents to start conversations about their Christian faith with their children. There are also
nature posters
that you can purchase if you'd like. When I pre-read the book, I didn't see any theological conflicts: the story is a story about a family, and in the course of going about their day, they periodically talk about God and the Bible. It's lovely.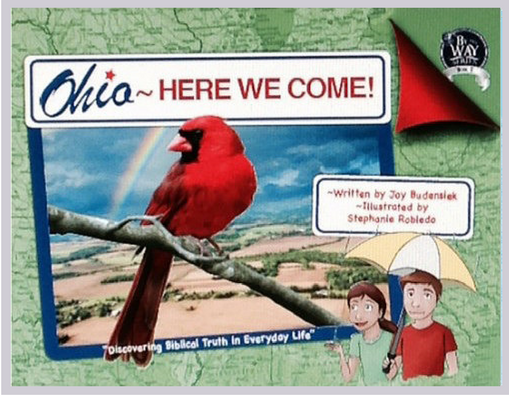 Inside the front cover of the book is a reference to the Bible verse that inspired their company name, and it's one that I love:
---

And thou shalt teach [God's words] diligently unto thy children, and shalt talk of them when thou sittest in thine house, and then thou walkest by the way, and when thou liest down,and when thou risest up.
-Deuteronomy 6:7


---
They don't have our home State yet, so I picked Ohio because the Mormon church has a fair amount of history in that State, and I thought it would be nice to have a better sense of the context for that history as it comes up. It's extra nice that that goal works so well with the goals of the book's author. I shared it with Dragon(6) first, and he was pretty excited: he was jumping up and down so much that it was hard to get a decent picture of him and the book.
The book itself is beautiful. The pictures that illustrate Ohio are photographs, and there is a ton of them. Bright, beautiful colors, a mix of city and country scenes: there's lots to look at in this book. But it's not just a list of facts; all the interesting things about the State of Ohio you could ask for have been woven into a family vacation story about two kids, Alex and Lexi, who are cartoon kids, so there's a clear distinction between real facts about Ohio and the fictional storyline. I was impressed at how uncontrived it felt as I read it. There are a few places where it's a
little
forced, but by and large, the story flows well and you just learn along with the kids. I invited Dragon to come and hear the story, but pretty soon Peanut(4) showed up, and I noticed that Hero(10) was hanging around looking interested, too.
One thing that had everyone intrigued the first day we read was this cool treasure hunt. Dragon was poring over these pictures, trying to memorize them, and he was so excited to look for them as we started into the first few pages of the book.
We started reading, but we didn't get very far before we were talking about all the cool bits of information in the book. We learned about rainbow trout spawning, and about the number of teeth a coyote has - which lead Dragon to wonder how many he has, and the next thing I knew Dragon looked like this, trying to count his own pearly whites.
We hadn't gone very far, when we came to a section about how God, for over 6000 years, has been "turning down the lights of daytime getting ready for the darkness of the night". The verse referenced, Amos 5:8, is one that I had not previously noticed (though it's not far from one of my favorites, Amos 3:7). We looked it up, and it's such a poetic, beautiful verse.
---

Seek him that maketh the seven stars and Orion, and turneth the shadow of death into the morning, and maketh the day dark with night, that calleth for the waters of the sea, and poureth them out upon the face of the earth: the Lord is his name.
-Amos 5:8


---
We talked about the verse a little bit, and about how God is so dependable (which the story points out seamlessly), and then about how when Dragon does what he says he will do, he is learning to be dependable, like our Heavenly Father. It was a great teaching moment.
And then, he wanted to know what came next. Which was piglets on the farm in the story; twelve of them. Peanut did not approve, though I never did get a decent explanation from her about
why
she never wants to have a pig. Apparently, they are
not pets
. Four-year-olds know these things, I guess. Dragon thought it was pretty amazing that pigs have so many babies all at once, and gave Peanut The Look when she was so adamant that she didn't like them. Kids are so funny!
It was especially fun to find this verse, from Psalm 118, because it's one that Peanut has been working on memorizing in Japanese. It was an unexpected opportunity to reinforce both the verse, and the meaning of it. And it's just such a lovely verse and a great reminder anyway.
Reading this with my kids was very pleasant. It looks like a short little thing; I didn't expect it to take long to read at all, but we would get busy chatting about the pictures and the places, and everything, and it took us several sittings to make it all the way through the first time. I think that it's going to have quite a few trips through it before it stops being "new" because it's just so packed full of interesting information, the scavenger hunt, and so many beautiful pictures. It took us several sittings to mosey our way through the whole thing the first time, because there's just so much to see. This book is a welcome addition to our home's library.
To see what other Homeschool Review Crew families thought of their books - and to have a sneak peek at all 6 titles that we're reviewing for By The Way Books - click the banner below: