I don't think that I've used tempera paints since I was in kindergarten myself, so I really wasn't sure what to expect when we were given
Thin Stix 6pk of Classic Colors
to review. They're a hit!
The Pencil Grip, Inc.
has something cool here; my younger kids ask for them all the time. We love art, and I'm a proponent of art and drawing as an integral aspect of good science study, and while these are not fine point enough to do that kind of work with, tools that get my little ones drawing early and happily are a win in my book.
Thin Stix work like a glue stick: you twist the bottom to get a little more of the paint stuff. It really feels more like using a marker, and in fact Peanut(4) usually calls them "paint-markers" which is an apt description. While they feel like markers in your hand, they act like paint on the paper, in that they are more opaque, and there's some slight texture to the strokes you make in the finished work. The colors are bright and beautiful, and they make it easy to enjoy working with the Thin Stix. Which my kids do -- especially the little princess.
The packaging says that it dries in 90 seconds, but I found that it's actually usually a fair amount faster than that: if you're putting on a single layer, it's close to instant. The kids carried these all over the house; they weren't supposed to, but they act like markers and that's how my kids reacted to them. I was a bit jumpy the first time I realized this was happening, but after a while it didn't bother me as much: they really aren't messy at all. We never had any marks accidentally show up on clothes or other things: just the paper. The one time it did get on a surface, she had been using a chair as a table, and in coloring clear to the edges, it got on the chair underneath, too. However, even though I didn't notice that it was there for a half hour or more, but it still wiped away so easily that I could hand Peanut a rag and have her easily wipe it up herself.

If you want to color over the previous layers (they're mostly opaque, so that works, particularly with the darker colors) then you'll want to give it a couple of seconds to dry before you put on the second layer, which is what I did when I was messing around and drew this ladybug. I did find that more than 3 layers gets a little messy, but the markers will write over a single layer pretty well.
Hero drew this cute Minecraft character with them.
When I did my dinosaur, I was a little surprised they didn't blend when I put grass around his feet; these dry quickly. I liked that, here, where I didn't really want the colors to mix, I could keep them separate, but I was able to get them to blend just a little if I layered the colors very quickly other times. I like having both options.
I think that these would really shine for making signs for youth group activities, bake sales, and the like: they're bright, bold, easy to use, and they work nicely for simple shapes and large letters. I just made this up quickly, but I bet that if you handed the teens in a youth group Thin Stix and asked them to make a sign for a fundraiser or other activity, they could come up with something really cute.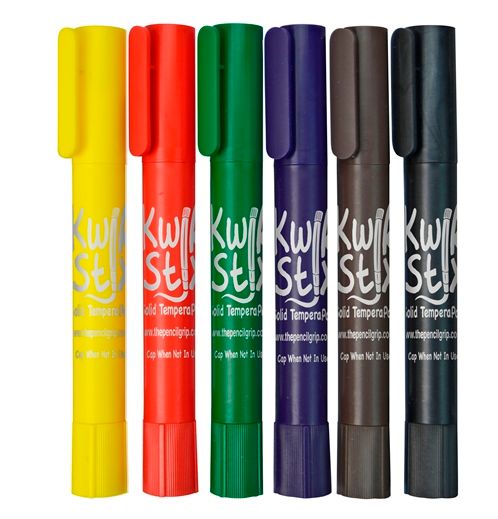 The Pencil Grip, Inc. has generously provided a second set of
Thin Stix 6pk of Classic Colors to be sent to the lucky winner of a Giveaway! (Open to US residents only.) I think that your kids are going to love these as much as my kids do. You can enter twice if you want to, here's how:
1. Leave a comment saying what you plan to do with your Thin Stix if you are the winner. This is your first entry. Please leave an email address in the same comment so that I can contact you if you win, or if you prefer not to publish your email, leave it in a second comment and I will keep it private.
2. To enter a second time, share this giveaway on Facebook. Make sure to set your privacy so that I can come and visit you. Then bring a permalink to your post (click the timestamp right under your name, as shown in the picture, and it will bring up a page with just your post -- that's the address you want), and leave that link here in a separate comment. This will ensure that both your entries get counted.
I will count up the total number of entries and choose one at random, using the random number generator at Random.org. I will announce the winner of the giveaway on Friday 26 May 2017. Good luck!!
To read more reviews on ThinStix, and to see how other families used it in their homeschool, please click the link below: