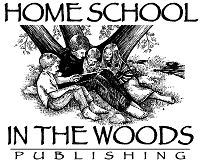 Home School in the Woods
has several
Activity Packs
, as well as the
Project Passport that we reviewed previously
, and many other offerings, but this time we've been given the
Make-a-State Activity
to review which was perfect timing for us: I had planned to do some work with Hero this year for Wisconsin state history. In addition to having Hero(10) do this lapbook, I also am doing it with Dragon(6), and even Peanut(4) is enjoying the coloring, cutting, and gluing -- because she is Big, like her brothers; ask her and see. Happily, while they are learning about our State, she is getting some nice practice in on her fine motor skills. It's a win all around.
One cool thing about this packet is that it's very simple. Once we set it up, we just added a little bit to it a couple of times a week. There are 20 projects in all, plus instructions for assembling them into a very nice lapbook, but while that sounds huge, it doesn't feel huge, working on it. The kit that you receive from Homeschool in the Woods had materials for doing all 50 States, which is nice. When I was a kid, our family moved around, but I considered Utah to be our home. We had just moved to Wisconsin, and so when my 4th grade teacher announced that we were going to be learning about our "home state" I raised my hand and asked, "So, will I be learning about Utah? Because Wisconsin is
not
my home state." That was one of several times when that teacher did
NOT
smile at me; I had a difficult year that year. But if your family has similarly strong ties to several States, it would be a simple thing to use this Activity-Pak to learn about whichever States your interest draws you to, and at no extra cost for the additional States. In fact, because we do have a lot of family and church history that takes place in Utah, I'm considering asking the kids if they are interested in doing a second lapbook for Utah, when we have finished Wisconsin. There are several other States that our family has ties to that would be candidates for that kind of activity at some point, either in doing the whole project again, or in doing selected booklets.
It's really easy to adapt to the various levels the kids are ready for: Peanut is primarily cutting and coloring, which is great for her fine motor skills and her need to be included when we do school. Dragon is getting his first exposure to some of the State trivia (our bird is a Robin, and our flower is a Wood Violet), and Hero is getting all that, plus he's getting practice at searching for information that he needs for this kind project: I'm having him do his own googling for most of the things, and helping him to figure out how to extract information from his search results: What are the biggest cities in the State? What was the population at the last census? Part of what I intend for him to gain from the activity is an increased ability to find this kind of information. Make-a-State's adaptivity is one of my favorite features about it.
Activity 7, the wildlife and plants of Wisconsin booklet (pictured left), is supposed to be printed front to back. My printer doesn't do that very well, and the instructions for how to do it are somewhat lacking on how the alignment ought to be, so putting that particular book together was something of a headache. We ended up printing two pages and gluing them back to front, and then assembling the booklet from there, rather than printing it doublesided. That being said, that booklet ended up being one of my favorites as the kids filled it out. I had the boys select and draw plants and animals from Wisconsin, and it was fun to see them draw on the things they have learned from our time doing nature study to fill this out. So far, this has been the only booklet that gave us trouble in assembly, and I've worked on 13 of the 20 included projects. All the rest of the instructions have been clear and easy to follow, and even the four year old can do a large amount of the cutting and assembly successfully.
Putting our own rivers on the State is challenging; I'm glad we don't have very many major rivers, and no mountains to try to depict! We ended up with some geographically suspect city placement, even with coaching on how to go about locating cities relative to several points on the border, but I feel like it was a good exercise anyway, and that even with some inaccuracy there's been good learning that went on here. It's also showed me that in our art instruction we need to talk about how to measure and look at some tricks to help my oldest be more aware of proportion. This is good information, and I really handn't suspected it before, so I'm glad that this project is set up the way that it is.
Lapbooks are, by nature, fiddly fussy projects. We don't do a lot of them for exactly that reason. I found that this worked better when we did a section once or twice a week, rather than when I tried to do several in a day. There's a lot of time spent in cutting and gluing. We used some of that time listening to an audio drama, and some of it listening to native drums, but by the middle of the lapbook, it still was feeling like a whole lot of cutting and pasting. However. I think that we did a better job of learning about our State than we would otherwise have done without this project. It really gave a lot of form and structure to "learn about Wisconsin", and they made it easy to know what things to look up. I've lived here most of my life, but in the process of filling out the little books with the kids I learned new things, too. I don't do a lot of lapbooks because they're a lot of fuss and a certain amount of busywork, but it really is a nice format for this kind of study. We need to learn about Wisconsin, and there's a lot of little disconnected bits of trivia that it's nice to know -- which seems less trivial when they're all connected in the lapbook. And the books are really cute as well as they come together. Homeschool in the Woods has even recently started offering
À La Cart Projects
, so that you can include just what interests you.
If you want to read more reviews of this and other Home School in the Woods' hands-on history products, click the banner below. There's other State lapbooks that are being shown, as well as a variety of American History packages, Old and New Testament materials, helps for composer and artist studies, and some really beautiful timelines that Crew members have been looking at so they can share their thoughts with you.