For this review, we were given the
Learn to R.E.A.D. Curriculum Notebook
, a 36-week phonics curriculum with some language arts components, and the
R.E.A.D. Review Pack
, which is 28 early readers that correspond with the R.E.A.D. Notebook, both from the
The Crafty Classroom
. The readers can be used with the R.E.A.D. Notebook, or on their own. Both of these are kindergarten products. The R.E.A.D. Notebook says that, "If your child is able to identify a majority of the letter sounds they are ready to begin this curriculum."
My first impression, downloading these projects, is that the files are
huge
. The R.E.A.D. Notebook is 798 pages, and the R.E.A.D. Review Pack is almost 100. In looking them over on the The Crafty Classroom website, I hadn't realized they were so large. That is a lot of printing, and my printer wasn't working very well at the start of the review, so be aware that a number of my pictures don't reflect the actual print quality very well. It's also a black and white only, but a number of the pages in the R.E.A.D. Notebook are very cute color pages. For most of the pages, it's not a big deal that there are light places, and color pages are printing fine greyscale. We figured out the problem with the printer, so when I printed the readers, things were much better. However, buyers should be aware that these products are going to give your printer a workout! I found a notebook and started out with the first 39 pages, which gave me the instructions for using the curriculum, pretest materials, and the first word family's activities.
The first thing that you do with your child is check and make sure that they know their letter sounds. I was a little surprised at how much work Peanut still needed on this, and we spent the first week or two just working on letter sounds, and introducing the daily page. There are several pages included in the packet for testing letter sounds, and these have turned out to be extremely useful for finishing
teaching
the letters. I put these letter pages in sleeves -the curriculum suggests doing that with a few things; I did it with a lot- and we started out shoring up letter sounds. We also practiced some of the daily things, her name, some of the counting exercises, and so on. We started with the page of letters with pictures (which should be color, but prints decently anyway, even with my printer doing parts of the page extra light; also the capitals on the left are uneven because of my printer: the originals are not like that), and we just mark them with a happy face when she says the sound. She loves to see the happy faces start to add up. It's extremely convenient to be able to just grab the binder and have everything we need.
In addition to the page of letters with pictures (which are easier to read than the picture suggests, not bad in greyscale, and if you can print them in color they're super cute), there's also both capital and small letters that we'll be doing the same way until she has them cold.
After a couple days working with just letter sounds, I realized that the letters she needed to begin the first week of work on the -am word family (a, m, y, j, r, and d) are mostly letters she knows, so we started to work through that letter family, while still continuing to work pretty intensely with the individual letter sounds. This means that we're moving more slowly through these first lessons than one lesson a week, but I think that it's working out fine to do it this way, as far as how Peanut is doing with it.
This is the first page in the -am word family section. I had some extra page protectors, so we just tucked all of the pages in, which helps me adapt for the poor print quality because I can write out the words. Some of the pages are black and white; these rhyming pages are supposed to be really cute colored pages; my printer does all of them greyscale and that badly right now; the packet is supposed to be way cuter than what my pictures show. We sound them out together as I add each letter, and I give it a little circle when she's done it, because she likes me to.
There's a nice variety of activities, so even though we spend quite a while working on the same letter family, she isn't getting stale on the words. This means that she's happy doing enough practice to really get good at these words before we start adding in the next word family. And, the way that things are set up, it's easy to make sure that she's not just remembering and guessing, but actually reading the words. This word card activity was a huge favorite for us both. We set up a number of different sentences, but this one was one I knew Peanut's Grandpa would especially appreciate: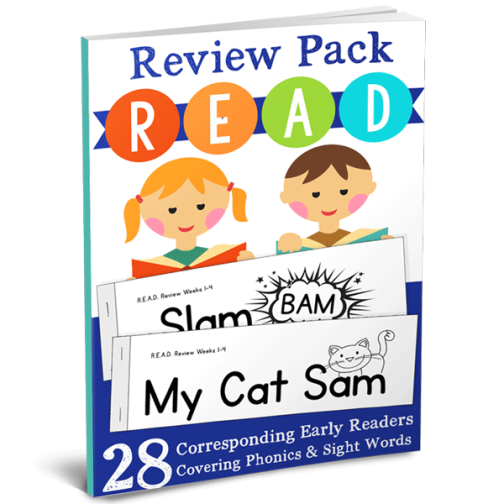 The review books are cute, and highly phonetic, which I really like. They're meant to coordinate with the curriculum, with a new set introduced every 5 lessons. The overview page has some color (see the screenshot to the left), but the books themselves are black and white, which is important for me right now. Really my only complaint is that it bothers me when phonetic words are introduced as sight words; in week 5, am one of the sight words -- but it fits one of the word families the kids should have learned! The only real sight word in week 5 is "the", and even that one can be taught phonetically if you pronounce it with a long e. Week 10's only sight words are "come" and "to" -- all the rest are phonetic. My feeling is that everything that can be taught phonetically should be, as that maximizes the child's ability to attack unfamiliar words. There are plenty of words that must simply be memorized; it doesn't make sense to me to add to that by including rule-following words in the sight words. That being said, these are lovely little books.
The setup for them books is pretty simple: you print them, cut them -- they're probably in the correct order as they come out of the printer -- and then staple them. Easy peasy. By this point we'd fixed up the printer, so I just went ahead and printed out the whole file. It's a good size stack, but I thought that would be easier to do than figuring out page numbers every time we need them. The instructions suggest using a kleenex box to store them, which I thought was really clever.
Assembly was as easy as promised: I cut them out with my paper cutter I got for scrapbooking, but you could easily do it with scissors, too. Then you lay them on top in order -- the books have page numbers, so it's easy, even if you get distracted while cutting them and lose your place. I cut and made up the four books that use the words from the first four lessons, and while Peanut hasn't quite gotten far enough to be ready for these yet, I'm really excited to use them. She must be, too, because she saw my pile of printed pages ready to turn into books, and spread them out all over (very carefully and tidy), and then asked if she could color them all! The books look excellent: simple, mostly really phonetic, and I'm excited to do them with her when she's ready. Once she's read them for the first time,
then
she can color them. She likes that kind of thing.
Overall, I'm really liking this program, in fact I'm feeling very blessed to be on this review, since this is working so well for my daughter. They activities are holding her attention, there's plenty of practice, and the readers are cute. It's a good fit for us, and I plan to continue to use this after the review is done, instead of the other materials that I used with the boys.
UPDATE: Six months later, we're still very happy with this program, and
she's made it to the first set of Review Pack books
, which are adorable.
If you want to read more reviews of a number of different The Crafty Classroom products click the banner below.